Three side tippers and low bed trailer with slide-in ramps – Types & Models
Our strong type with single wheels:
Total weight 18000 kg, Order number 890/18000, PL approx. 13900 kg, loading measures inside approx. 5000×2420 mm,
loading height unloaded approx. 1250 mm, with sidewalls 600mm high, wheels 385/65 R 22,5 and air suspension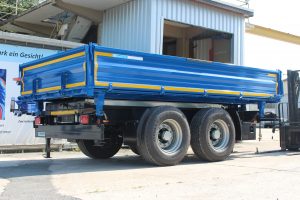 Three side tipper model 890/18000
All three side tippers can be delivered in the desired length and colour and can be equipped with
tool boxes

net hooks

spare tyre and holder


rotary head with alternatively 40mm and 50mm drawbar eyes

support frame for excavator and crawler shovel at front wall

additional or different lashing points

additional sidewalls in different styles and heights

double wing door

galvanized chassis

Please just ask us!