They were exhausting but "uplifting" days at the end of October 2022!
The bauma in Munich from 24.10.-31.10.22 was again very well frequented with almost 500,000 visitors. Our dedicated bauma team has had countless discussions. Above all, the proportion of foreign prospective customers was very high, contrary to our expectations! From Finland to Spain (north to south in Europe) – from Iceland to Bangladesh (non-European) interested customers were there. In the follow-up to the trade fair, offers are to be sent to 20 different countries.
Admittedly, a reluctance to buy and uncertainty can be felt, especially among German customers. However, that depends on the construction industry in which it works: in road and pipeline construction everything is still going well at a high level, in building construction and landscaping the order situation is declining. Nevertheless, the mood was good and you could tell that people were hungry for personal contacts, exchange and hands-on products. Almost all of our dealers have drawn a positive conclusion. With our products there was not a "hit" – all vehicle types with their robust construction and the special equipment shown were very well received. An eye-catcher was certainly our overdesigned 18t three-way tipper with the low loading height of 1.13m. Or the 21t tandem low-loader with electro-hydraulic ramp operation and 16.7t payload. But even with our mini low-loader, many agreed: there was no other such robust, overrun-braked mini low-loader to be seen at bauma! Incidentally, you can find the exhibited products with technical descriptions individually under "Types & Models" in the individual trailer categories on our homepage behind a caterpillar vehicle icon.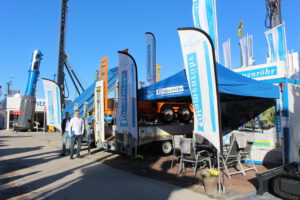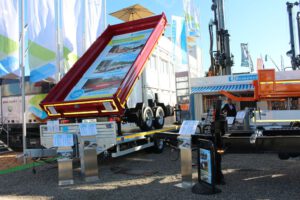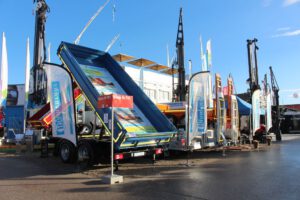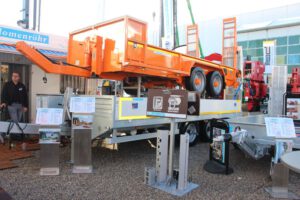 The summer weather, which was not to be expected at the end of October, was certainly conducive to the positive course of the trade fair. While it was still pouring at the start of the trade fair on Monday, the weather got sunnier and warmer every day. Until 25°C T-shirt weather was reached on Saturday.
So we keep bauma 2022 in good memory as a "summer fair" and look forward to the next event from April 4th to 13th 2025.
Our bauma 2022 trade fair team would like to thank all interested parties, dealers and suppliers for your visit and the lively, friendly exchange! We hope to have gained their trust in our products and our company. The offers that are still open will be sent to you in the next few days – we are still in the middle of the trade fair follow-up! (11/10/2022)
Cordula und Joachim Wenzel, Michael Raderkopp, Christian Quiring, Jonas Voßebürger und Frank Hüttmann