Since September 1rst, 2021, new legal requirements for rear underrun protections (RUP) have been in effect for trailers with EC type approval – and from July 2022 also for vehicles with individual TÜV approval.
That is why our tippers, low bed trailers with inserted ramps, chassis and also flatbed vehicles will soon have a new, elegant design at the rear! We designed our own RUP for our vehicles and had it checked and approved by the TÜV Nord. Here you can see what our vehicles (without fixed ramps) will look like in the future and what advantages the new RUP offers you: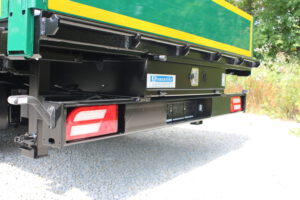 So that the sensitive and expensive lighting (here LED lights) is still well protected, it will be installed in the RUP in the future. The same applies to the number plate with lighting, which will still be clearly visible. The necessary lane warning / position lights are attached to the side of the RUP so that the wiring is well protected in the RUP. If dirt collects in the RUP, it can be rinsed out through the slots in the floor!
You can read more information on the subject of why a new underrun protection must be attached to trailers and what is changing here according to R58-03 in our "Infothek" (available only in German):
Wieso gibt es einen neuen Unterfahrschutz bei Anhängern? Was ändert sich beim Unterfahrschutz gemäß R58-03?