Safe and quiet truck parking area
for well-rested truck drivers
near the A44!
Only about 3km away from the motorway A44 – exit Geseke (inbetween Dortmund and Paderborn) – is this fenced and monitored security truck parking area with comfort for your drivers!
Blomenröhr Premium Truckparking offers: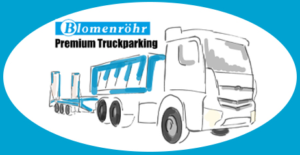 SECURITY
Completely fenced area (4000qm) with privacy protection through thick hedge
Access restriction through automatic gate barrier system – separate barrier for entry and exit!
Continuous video surveillance of the park area with recording
Uniform illumination of the park area in the darkness thanks to LED light masts
Access only for registered users!
25 reservable and thus garanteed truck parking spaces – the annoying search for a parking space is no longer necessary
TAPA PSR Partner
COMFORT
Well-kept sanitary facilities with separate washrooms/WC and shower – usable free of charge!
Cozy and heated lounge for the drivers with plenty of seating and table football

NEW from July 23

: Covered outdoor seating "Chillout Lounge" and PlayZone with table tennis and dart board
Digital Laundry Room – with washing machine and dryer. Can be booked digitally!
Tea kitchen for washing up
Outdoor seating
Disinfectant- and soap dispensers available
Free electricity connectors
Female drivers can also feel comfortable and safe here!
LOCATION
Approx. 3km away from the A44 – Geseke motorway exit
Located in a quiet industrial park "Geseke Süd-West"
Supermarket with bakery und drinks shop within a distance of 300m
Tire trade with workshop, free truck-workshop within walking distance
Hospital with emergency room, pharmacy within a distance of 800m
Downtown Geseke, Natural park in the quarry within walking distance
Important:
To ensure that the drivers' and residents' sleep are not disturbed, it is forbidden to run diesel-powered cooling units during the night (10:00pm – 6:00 am)!
BOOKING CONDITIONS

Entry and exit possible around the clock (24/7)
Parking fees (since 1.10.2022)
12 hours: 20,00 €
24 hours: 28,00 €
48 hours: 44,00 €
80% of the costs can be reimbursed through the De-Minimis funding program
Can be booked exklusivly after prior registration via the www.bosch-secure-truck-parking.com  portal, TRAVIS Road Services https://www.yourtravis.com/en/ or by KRAVAG TruckParking App www.kravag-truck-parking.de – you will receive an opening code for entry and exit sent to your mobile phone
Billing/debiting by collective bill via Robert Bosch GmbH, TRAVIS Road Services or KRAVAG/Complina
Collective invoices can be submitted to the BAG as part of the De-minimis funding program and 80% reimbursed
Impressions from our Secure Truckparking Site: