Road marking machines with a very long wheelbase and low ground clearance can only be loaded on special low-loaders. Each machine is individually configured by the respective manufacturer for the needs of the customer – special attachments are the order of the day. Since frequent loading and moving of the machines is part of the daily work program, it must be possible to secure the machines quickly and easily.
At the request of road marking companies, we have already designed and built a number of low loaders in a wide variety of sizes: experience has shown that the machines require an approach angle of approx. 9 ° and a very flat kink point so that they do not get stuck when approaching. For smaller machines with a dead weight of 3000-6000kg, a drive-through low loader is usually sufficient, which is equipped with particularly long ramps and an extended ramp. The maximum width between the drop sides is 2.03 m here.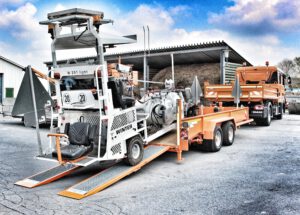 See in our brochure which of our vehicle types can be used for the transport of your machine and which equipment variants are available!
Prospekt Tieflader für Fahrbahnmarkierungs-Maschinen Innenbreite 2,m
Further information can also be found on our homepage under special vehicles:Link to our homepage "special vehicles"
or you can watch a video, how quickly and easily our low loader can be loaded with a road marking machine!    https://www.youtube.com/watch?v=EyJUKorG6Iw
The low loader can be offered with or without a tarpaulin structure, with a closed tail lift or individual ramps, with warning lighting by means of speed cameras or rotating beacons and with a bolt or maneuvering coupling on the front wall to secure the machine.
For heavier road marking machines or those that require a drive-through width of more than 2.0 m, we have designed an innovative low-loader with a tiltable loading area with a continuous drive-on angle of 9 °. Using an electric hydraulic pump, the front loading area is raised in no time by two hydraulic cylinders, which enables a wide variety of marking machines to be loaded very conveniently and quickly. The loading of machines up to a dead weight of 7300kg / 7800kg (without / with tarpaulin structure) is possible on this low loader.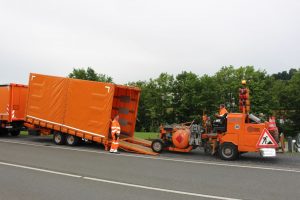 Here, too, there are some special equipment variants. For example, it is possible to easily raise the ramps using an electrohydraulic pump, attach the pin coupling to various positions on the bulkhead or use the low-loader without a tarpaulin roof frame: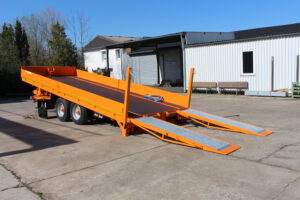 You find our matching brochure here: ankippbarer Tieflader Typ 1020/10500
We only use components from well-known manufacturers for all of our low-loaders! This significantly extends the service life of the low-loader and ensures a fast and reliable supply of spare parts. The robust frame construction and the excellent paintwork are also decisive for a long service life. The steel components are all welded and not riveted or bolted. We are happy to take your wishes and requirements for special equipment into account – if you have a need, simply contact us for a non-binding offer.