Since the desire of many construction companies to transport heavy construction machinery with three-way tippers with large single tyres and thus to have a universally usable trailer is unbroken, our development department completely revised the design of the single-tyre tandem three-way tipper last year and developed a very low and thus safe and easy-to-load tipper:
our type 890/18000-2 with wide tyres 385/55 R 22.5 and a loading area length of 5.50m has a loading height of only 1.13m – although it has 10t ramp rails inserted under the loading area! This low loading height combined with long ramp rails ensures an extremely acceptable ramp angle of 17°!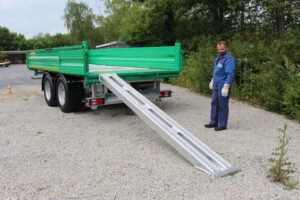 Drive-up angle of 17°, ramps with 10t load capacity per pair, weight per ramp: 66kg
With the standard loading area length of 5.50m and 600mm high drop sides, it has a loading volume of 8m³. The loading volume is sufficient for 14.6t of limestone ballast, 12t of topsoil or 12.5t of gravel. Extendable aluminium loading rails with 10t load capacity are inserted under the tipper bridge with HARDOX floor – 12t ramps (72kg/ramp) are also possible with unchanged loading height! This means that even common 10-12t excavators or wheel loaders can be loaded easily. The load floor height is kept extremely low at 1.13m, but thanks to the wide tyres it has a high ground clearance for driving in gravel pits or uneven terrain, for example.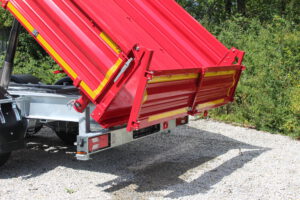 Swinging wing door: Ramps do not need to be put down before hanging!
A completely new feature is the possible design of the rear drop side as a swinging wing door. With this option, the annoying putting down of the ramps is no longer necessary! This tailgate can also be operated very conveniently via our new automatic tailgate opening. We have chosen a pneumatic solution: when tipping backwards, two pneumatic valves give the signal to a cylinder to open or close the hooks at the rear. The valves are supplied via the trailer's compressed air system. No further connections are necessary!
Prospekt Dreiseitenkipper 890-18000-2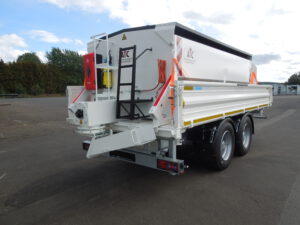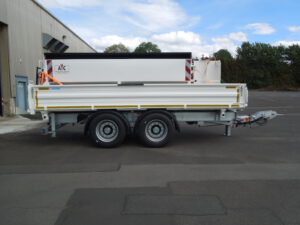 This is also how our tipper type 890/18000-2 can be used: equipped with an asphalt thermal container for road construction! The asphalt container was built by our long-standing partner ATC-Richter from Hessisch-Lichtenau and is easily removable if the tipper is to be used for transporting machinery or bulk materials.
A trailer really cannot be used more universally!