Minitrailers with overrun brake now also available with self adjusting brake!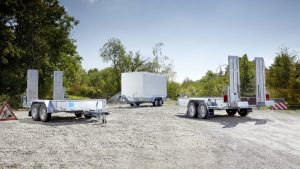 Depending on the load condition and the frequency of use, the brake shoes on overrun brake trailers wear down at different speeds. To counteract the declining braking effect, the trailer brake needs to be adjusted in the workshop. There are no prescribed maintenance intervals, but the user himself must check the braking effect! The police control the braking effect by a simple test – the awarding of penalties  are the order of the day in Germany with decreasing braking effect, especially in the field of commercial use by gardeners and landscapers or construction companies. These penalties and frequent visits to the workshop can be counteracted by installing a self-adjusting brake.
You can order the self-adjusting brake either as original equipment for new vehicles:
Z02-090 Minitrailer axles equipped with self-adjusting brake – for an optimized and consistent braking effect without adjustment; This eliminates the maintenance intervals on the brake and the ride comfort increases (no more jerky, uneven braking). When reversing, the adjusting device is deactivated
Or you order the retrofit kit in our spare parts sales – for this we need the chassis number of the Minitrailers that need to be equipped.
Level control for low bed trailers with uneven load distribution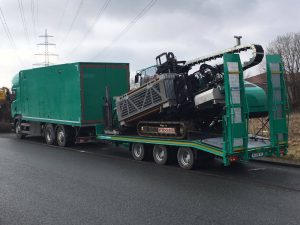 When transporting machines that have an uneven weight distribution to one side  – for example drilling rigs with a one-sided linkage – the suspension is subject to varying degrees of stress. The charge is crooked – and that can permanently lead to problems. In the case of air-suspension vehicles, we can remedy this situation by installing a "side-selective level control":
Z02-057 Side-selective level control in addition to air suspension – recommended for unequal load distribution (right / left)
19t three-way tipper with a loading area of ​​5,50m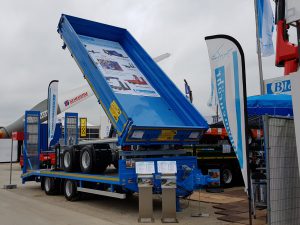 At the Bauma shown and so many times met with international interest: our twin-wheeled 18t / 19t three-way tipper with 5.50m loading area length, 14.8t payload and 8cbm loading volume! In the attached pdf you will find the vehicle information with equipment information of the shown special model:
 Vehicle information Bauma 2019 model 889-18000
Redesign of our double box – can also be delivered hot-dip galvanized!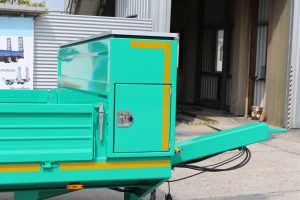 Our popular double storage box has been redesigned, got new rotating locks and has a lower dead weight!
Z05-491 Double storage box, mounted in front of the loading area on the approx. 60cm extended chassis External dimensions: H 900 x D 510 x W 2550mm
For safe storage of small parts, tools and lashing straps: lower compartment has a clear dimension of approx. 390x2490x500mm (LxWxH) and is to be loaded laterally by two sheet steel doors with damped closure. Both doors are theft-proofed by a turn-lock. Bottom consists of 24mm plywood plate.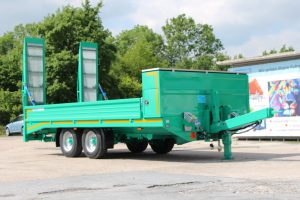 Upper compartment has a light dimension of approx. 435 x 2500 x 310mm (LxWxH) and can be closed from above by an aluminum cover with rubber sealing lip. The lid opens in the direction of the cargo area, is splash-proof and protected against theft by means of rotating locks incl. key. The bottom plate consists of 24mm plywood. Varnished in construction colour.
The storage box can also be supplied in hot-dip galvanized version or assembled in front of three-way and two-way tippers!