Loading heavy material and transporting construction machines with the same low bed trailer – that's what you can do with the Blomenröhr 11,9t low bed trailer with inserted aluminum loading ramps with a Palfinger loading crane!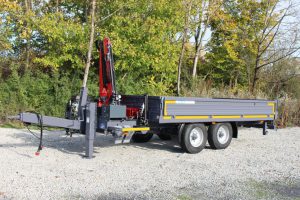 Heavy drill pipe should be un-/loaded at the construction site by means of a loading crane from a low loader. The requirement of the customer was that the crane should charge loads of 1200kg with a reach of 2.70m onto the trailer. When mounting on central axle trailers, you need to pay attention to the load distribution of the vertical load / axle load – so the weight of the components need to be taken in account as well as the position of the load and the axles.
The trailer manufacturer Blomenröhr chose for this project the Palfinger PC3800 crane, which weighs only 238kg and has a payload of 1360kg at a range of 2.70m. For the drive of the crane a motor was selected, which drives the hydraulic aggregate with 12l tank contents. The crane is supplied with 24V control power via the towing vehicle and can be operated by a remote control. Before operation, the side supports must be pulled out and extended hydraulically.
Further requirement: Both machines and cargo as well as long material should be able to be transported with the trailer. The Blomenröhr model 695/11900 with 1000kg support load was chosen. In this type of vehicle, the aluminum loading rails with a load of 9 tons are inserted underneath the loading platform and secured by a steel flap with lock. The ramps are hooked into the shaft at the rear and the tailgate is closed by a hinged door. The free loading area is 4,50m – the chassis is extended forward by 1m for the crane body. Due to the crane structure with motor, tank and hydraulic unit, the load capacity of 1000kg is claimed at about 40%.
Thanks to the equipment of the low loader with the loading crane, the trailer can be used universally and kills two birds with one stone: a driver can load and unload heavy material at the construction site and transport it in one go. At the same time, the low loader is ideal for transporting construction machinery.